Auto Sealing Robert
Auto Sealing Robert
Brand :PARKER
Product origin :Jinan, China.
Delivery time :30 Working Days
Supply capacity :20 Sets per Month
1), It can realize the continuity of various sizes of rectangular insulating glass, high efficiency, and stable quality。
2), Friendly man-machine interface, easy to operate, the side of the glue full, no bubble, full corners, no artificial finishing.
3), The servo control system of world famous brand, the performance is stable, accurate synchronous belt transmission system, ensure the glass to run stably, pollution-free, unique glue quantity automatic alarm device.
4), The dispensing system adopts Japanese SMC cylinder, which is stable and stable.
5), The second pressure adopts the hydraulic system, which can increase pressure effectively and ensure high-speed glue application.
Machine Introduction:

On automatic sealant machine by fragments, sealing glue, the footage of three parts, the machine is automatically completed two sealing of hollow glass, true hollow glass production completed online, with high efficiency, low consumption, glue, glue the aesthetics characteristic, is the modernization of hollow glass production enterprise will not lack one of automation equipment, especially in today's labor cost greatly increase, especially highlight the advantages of greatly reduce production costs for the enterprise.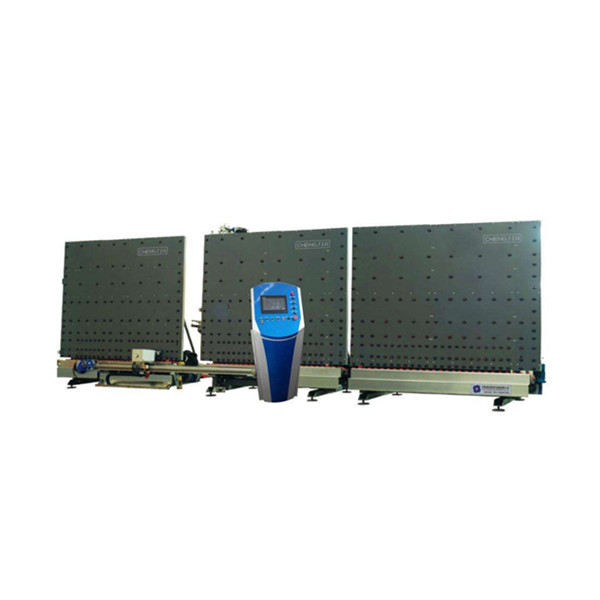 Machine Features:
1. Accurate proportioning and quantitative accuracy will not lead to the phenomenon that the rubber line will vary from big to small.
2. Add the limit alarm function, and when the pressure plate is pressed to the bottom of the barrel, the equipment sends an audible and visual alarm to prompt the staff to replace the plastic barrel.
3. The size of the glue can be adjusted freely according to the actual situation.
4. Use professional industrial control computer to cooperate with imported servo motor, stable and accurate.
5. Teaching programming, which is convenient and fast.
6. Storage capacity: over 2500 points for programming.
7. The function of ball bearing platform or assembly line can be selected to make the production efficiency more efficient. Suitable for glue: silicone glue, high viscosity silicon glue, glass glue, etc
Machine Parameter:

| | |
| --- | --- |
| Max glass size | 2000×2500mm |
| Min glass size | 200×300mm |
| Single Glass Thickness | 3~12mm |
| Glue depth | 2~15mm |
| The width of the sealant | 12-60mm |
| The speed of sealant | 2~35m/min |
| Dimensions | 8800×1500×2900mm |
Get the latest price? We'll respond as soon as possible(within 12 hours)