Double Glass Processing Machinery CNC Glass Cutting Line
Double Glass Processing Machinery CNC Glass Cutting Line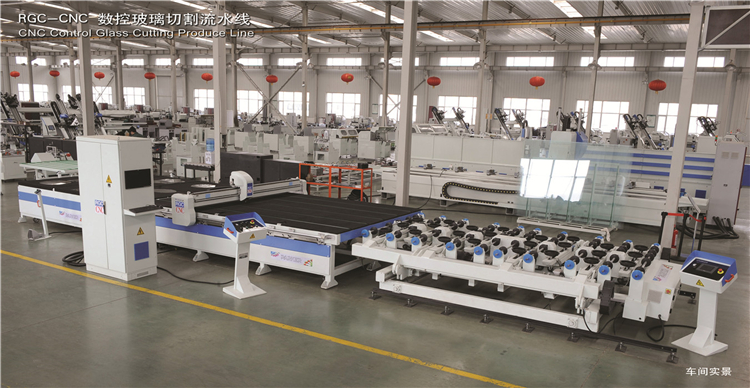 Components
Main frame/walking system/transmission system/vacuum adsorption system/mechanical reversal system/High and low electrical pressure control system/Programme control system
Features
Mechanical

Electrical

Reversal wheel and

chains

Hi-precision strenghened

PLC controller

Siemens(Germany)

Transmission wheel

Import PU material

Pressure sensor

SMC(Japan)

Vacuum sucking disc

Import NBR(double absorption structure)

Proximity switch

GCIC (Japan)

Converter

Schneider(France)

Contactor

Schneider(France)

transmiss/reversal motor

GPG (Taiwan,China)

Control cable

Flexible shielded cable

Vacuum pump

Shanghai(China)Busch





Parameters
| | | | |
| --- | --- | --- | --- |
| Loading piece dimensions | Minimum loading piece dimensions:1500*1300mm(only for left side);Max loading piece dimensions:2500*2000mm | Power/Kw | 380V/50HZ(Accept tailoered) |
| Loading piece depth | 3~19mm | Reversal arm | _______reversal |
| Loading capacity | 40-90 seconds(adjustable) | Workplace | _______(amount) |
| Transmission speed | 0~40m/min(adjustable) | Sucking discs on single arm | 3 |
| Max sucking sheet depth | 700mm | Kw for installment | 5 KW |
| Max loading weight | 700KG | Compressed air | 0.4Mpa-0.6Mpa |
| Arms on single side | 3 | Vacuum pressure | Adusting based on glass depth |
Equipment brief introduction
☆ Picks up glass sheet from the shelf,then turns to horizontal platform,transmiss to cutting machine or other processing platform.
☆ Vaccum system adopts famous brand pump,improve security and stability of system. Frame drived by motor
on dual track. Frame arm equipped with sucker branch,every branch bears three pieces of sucker. Main machine
goes front with upward sucker branch. Pump works while sucker touch with glass sheet on shelf,sucker catches
glass. When vacuum degree up to given value,reversal arm lifts and turn to horizontal place,after air release,glass
transmiss to end on axis X and located,wait the order to transmiss to cutting machine. Whole processing job is
controlled by PLC.
Technique
★Reversal mode is mechanical,fast and smoothly running without any shake. Equipped with dual-rail transmission chain protection,ensure a safety reverse.
★ Reversal angle. Reversal angle is 95' to 98', suit for loading at any angle.
★Sucking sheet depth. With special flexible rob,sucking disc stenchs forward 150mm available,
matchs loading depth up to 700mm,directly loads glass sheet from shelf without any other auxiliary shelf.
★Sersors. Adopts 2 sets of photoelectric sensor(one set for replacement),eradicate accident caused by induction failure.
★ Hoist part. Special hoist part,ensure synchronized operation and safety breaking.
★Absorption part. Sucking disc bears double layer absorption structure,stronger sucking sheet avoid of air leak cause by outer layer broken.
★ Sucking disc control. Every sucking disc controlled by individual air valve,freely choose disc for work,meet the requirement of loading glass with any dimensions.
★Wrong hoist protect. Pick and hoist protect part,avoid damage caused by dispalcement lag and pick liability.
★Alarm device. Automatically monitors,alarms and shows abnormality by light shining. Given enmergency button deals with abnormality.
★ Operation mode. Manual and auto.
★Operation interface. Operation interface uses colorful LCD touch display screen,bilingual display module.
★Parameter setup. Digitalized setup loading order and amount of loading piece in every workplace,cutting machine connection available.Auto walking and picking,realize uninterruptible loading.
II LQ-S.2520 Fully CNC cutting machine

Special manufacture:
★Special quenched steel frame. Framed by welded manganese steel under China national standards,through vibratory stress relief treatment,strong frame ensure full load operation under ordinary situation.
★Cutting bridge structural optimization. Analysised and designed by professional structure software,make sure of dynamic balance during the operation of cross beam,steability and durartion during the operation of cutting bridge.
★Control and servo system. Machine adopts USA GALIL closed loop system,perfectly matchs Japan Yaskawa servo,swift reaction,hi-precision and smooth running.
★ Cutter turning shaft. Cutter turning shaft adopts import guide shaft,prevent major fault during processing work.
★ Sloping rack design. The machine entirely adopts sloping rack design,reduces noise,improves tooth flank strength and meshing.
Performance introduction
★ Irregular picture scanning. On top of machine fixed a laser monitor to scans pictures and materials,after that automatically shaping and cutting.
★ Automatically set up parameters and optimize route. Four axises moderates and generates four different cutting pressure,according to shape,start and finish point,accelerating and deccelerating phase and acres,automatically adjusts,output perfect speed,pressure and route.
★ Air cylinder drives cutter. Cutter outputs pressure,electro-hydraulic integration proportional valve orders air cylinder produces pressure,precisely and correctly cuts matching surface,elimate cutting miss.
★ Drilling location prediction. Irregular image database supports drilling location prediction, accepts "plus" mode or cuts based on drill hole and hole diameter,combination above modes is aslo available.
★ Photoelectric location. Accurately confirm real position of glass,according to turning angle moderate cutting route.
★ Multi-Document reading. Read standard G code of Optima(Italy) and Guiyou(China) optimize software, DXF document of AUTOCAD and graphic editor software brings by system itself.
★ Breaking display. Connect to other screen,watch graphs and dimensions.
★ Insulating glass matchment. Automatically cut into any dimensions,easy to matching.
★ Realtime display. Realtimely chasing and display processing route,operation coordinate,state of axises and switch,bug diagnosis and auto-note alarm.
★ Auto-matching. After renews motor or drive,software automatically adjust new part to matched state,realize application and insert simultaneously,easy to repair.
★ Online composing and opitimize. System born with opitimize programme,composing any dimension within threshold,make out best cutting solution.
★ Regulation function. Since the date of installment,any operation schedule,start time,extended length,bug singal are all autosaved in disc,facilitate to regulate production and performance assessment.
Parameters
| | |
| --- | --- |
| Dimension of cutting | 2500*2000mm |
| Depth of cutting | 3~19mm |
| Bridge moving speed | 0~180m/min(adjustable) |
| Cutter rest moving speed | ≥180m/min |
| Cutter rest accelerating speed | ≥5m/s² |
| Cutter head location precision | ≤±0.15 mm/m |
| Belt transmiss speed | ≥30m/min(adjustable) |
| Straight line precision | ≤±0.20mm/m(based on cutting line before breaking) |
| Diagonal line precision | ≤±0.25mm/m(based on cutting line before breaking) |
| Oil supply | Penumatic oiling |
| Platform and felt | High density and waterproof platform,import static electricity proof industry-level felt |
| Cutter rest | 360 degree rotation available (correct cuts any straight line and irregular glass) |
Equipment specification
| | |
| --- | --- |
| Platform height | 850±30mm. |
| Power supply requirement for installment | 380V/50HZ |
| KW | 5KW |
| Compressed air | 0.6MPA |
Features
Mechanical

Electrical

Table

Waterproof,

≤±0.20mm/m

Main machine

Dell(USA) business version

Rack

Atlanta(Germany ),sloping rack

Motor

Yaskawa(Japan) servo

Transmiss

belt/belt wheel

Shanghai(China) Kangye

Proximity switch

GCIC (Japan)

Cutter wheel/wheel clamp

Bohle(Germany)

Controller

GALIL(USA)




Pneumatic ratio valve

SMC(Japan)

Optimize software

Optima(Italy)
III LQ-S.2520 Air flotation breaking table
Parameter

Table size

2500mm*2000mm






Table height

850±30mm(customerized)






Configuration








Table cloth

black fibre mat






Table board

high tensity fibre board






Pole








horizontal direction

One piece






vertical direction

One piece





Get the latest price? We'll respond as soon as possible(within 12 hours)